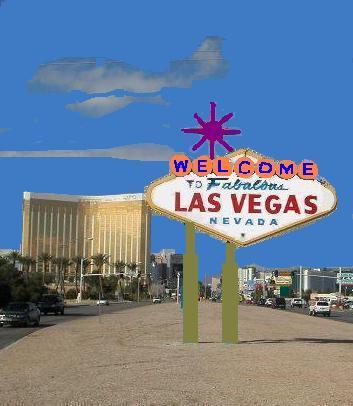 The Clarion Content has run a series of articles on how
widespread
the
impact
of the
massive
economic downturn in
the world economy
has been. The
last one
was on how the normally countercyclical industries of vice, including porn, haven't been exempt from this huge slump. Logically enough, the countercyclical locales are struggling as much as their industries, even Las Vegas.
The Los Angeles Times says
that the Vegas model, "which was to tap into an ever-expanding supply of free-spending visitors clamoring for first-class hotel rooms, four-star restaurant fare and high-priced shows, has been shattered by its worst recession in decades." They report that convention business is down about 27% from a year ago. Las Vegas tourist visits in general, after years of record setting new highs, have now declined for two years in a row, and this year look set to drop all the way back to 1999 levels.
The good news is there are deals for visitors all over the Las Vegas landscape. The LA Times reports that even the priciest of the luxury events and accommodations in Vegas are offering deep discounts. They cite the example of the normally $500/night
Bellagio
hotel offering rooms for as little as $90/night. Even the legendary
Cirque du Soleil
and some of the city's fanciest restaurants have been offering massively reduced prices.
Sounds like if you have got the
duckets
it is a great time to head to Vegas, baby!